2021年 7月 6日 コメントは受け付けていません。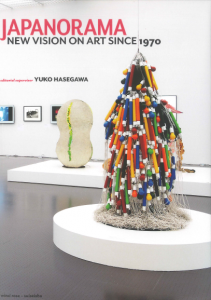 JAPANORAMA
New Vision on Art Since 1970
Edited by Yuko Hasegawa

Size: modified A5
Pages: 200
Retail Price: 3000 JPY
Paperback
ISBN:978-4-8010-0511-2 C0070
Designed by Junichi Munetoshi
Publication date: June 2021

▶︎sample◀︎

▶︎Go to store page◀︎
Japanorama is the book version of the catalogue for the Japanorama exhibition (published in French) that was held at the Centre Pompidou-Metz (in the city of Metz), a branch of the Centre Pompidou in Paris, in 2017. Consisting of texts by eleven Japanese and French writers as well as introductions to the artists and exhibition materials, it is our hope that this book will go beyond the catalogue and become an important reference that discusses and introduces audiences to contemporary Japanese art and visual culture.
* 日本語版『ジャパノラマ――1970年以降の日本の現代アート』は
こちら
Contents:
Japanorama: An archipelago of perpetual change Yuko Hasegawa
An archipelago of six concepts Yuko Hasegawa
JAPANORAMA
A. Strange Object, Post-human Body
B. Pop Art: before/after 1980s
C. Collaboration/Participation/Sharing
D. Poetics of Resistance
E. Floating Subjectivity/Private Documentary
F. Materiality and Minimalism
Japanese culture since 1970: Acinematic panorama in a letter Yasuo Kobasashi
The 3.11 earthquake and social media Yositaka Mōri
A genealogy of shadow, or logic of visual bricolage Keisuke Kitano
Expo '70: A panorama of postwar Japanese art Manabu Miki
Mono-ha Kenji Kajiya
Looking at today through the lens of the 1980s Akio Miyazawa
Post-Provoke and Post-Conpora: Understanding Japanese photography since the 1970s Minoru Shimizu
Giving life: The latent power of still images in Japanese subculture Futoshi Hoshino
Performance in Japan: Between anti-establishment and poplar culture Emmanuelle de Montgazon
Editor Profile:
Yuko Hasegawa
Director of the 21st Century Museum of Contemporary Art, Kanazawa and Professor of Graduate School of Global Arts, Tokyo University of the Arts. Formerly, Chief Curator and Founding Artistic Director of the 21st Century Museum of Contemporary Art, Kanazawa and Chief Curator of the Museum of Contemporary Art, Tokyo (2006-2016). Named as Curator of 11th Sharjah Biennial (2013), Co-Curator of 29th São Paulo Biennial (2010), and Artistic Director of the 7th International Istanbul Biennial (2001). Recent projects include, the Fukami Exhibition at Hotel Salmon de Rothschild (2018), the 7th International Moscow Biennale of Contemporary Art: Clouds ⇄ Forests (September 2017).